Introduction
Last updated: 2021-02-01
EEforce is a Windows based PCB Design version management software that specifically designed to work together with Mentor Graphics PADS and Xpedition PCB. The software has two parts of main components, Server and Client...

Server keeps all project files in a secure and isolated folder as versioned objects and allows authorized users to access and update those files while keeping original files unchanged.

Client software is a simplistic yet powerful user interface that gives ability of working with designs in a reliable and simple way.
EEforce Client Software
EEforce Client is a desktop software that designed to be as simple as possible while addressing PCB Designers needs. Its interface inspired from various similar softwares like Mentor EDM.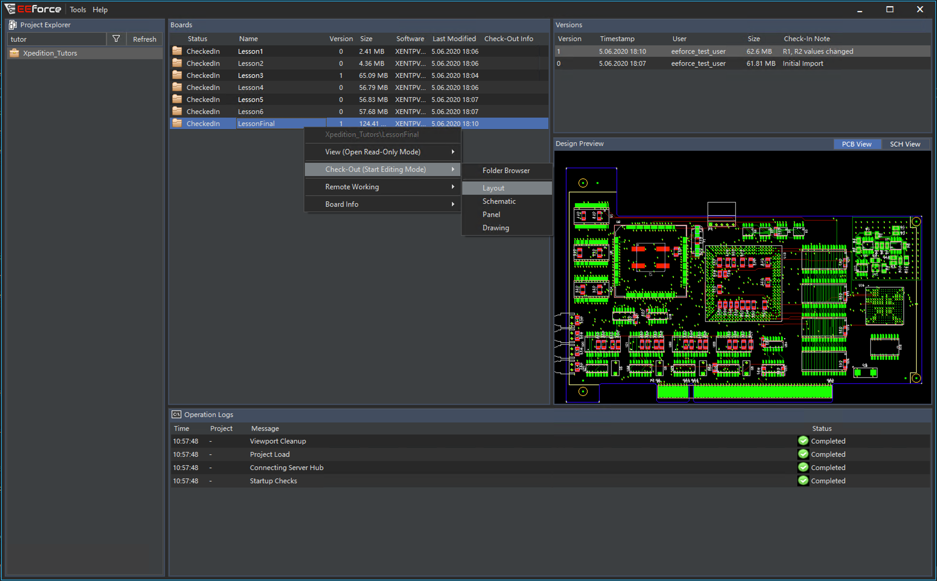 Key Features
Xpedition and PADS projects can be stored and used at the same time.
All design parts are kept in same container, not splitted to Schematic, Layout, etc. which it makes it simple to manage and store
Designs are edited using Check-In/Check-Out cycle
Designers can see a preview of PCB, Schematic and BOM without opening it
Every Project can have any number of Boards
Every Board can have any number of Versions
Versions can be locked, tagged and pruned
EEforce Server Software
EEforce Server Software is headless HTTP server process that accesses projects files in its vault folder and provides a REST API for Client software to access, modify and remove the data that stored in vault.

Server uses Microsoft IIS web server as a Proxy.
Key Benefits comparing similar systems
Minimalistic Resource Usage, (~40MB of RAM on Idle, Maximum 4GB at Peak)
Simple deployment
Simple management
Need no perodic maintains
All-File-System storage
Can be used with Windows' Shadow Backup or any other file backup systems